What's New - Visit Batai Chemical at PCHi
DATE:2021-03-06
2021 Personal Care and Homecare Ingredients Shenzhen
---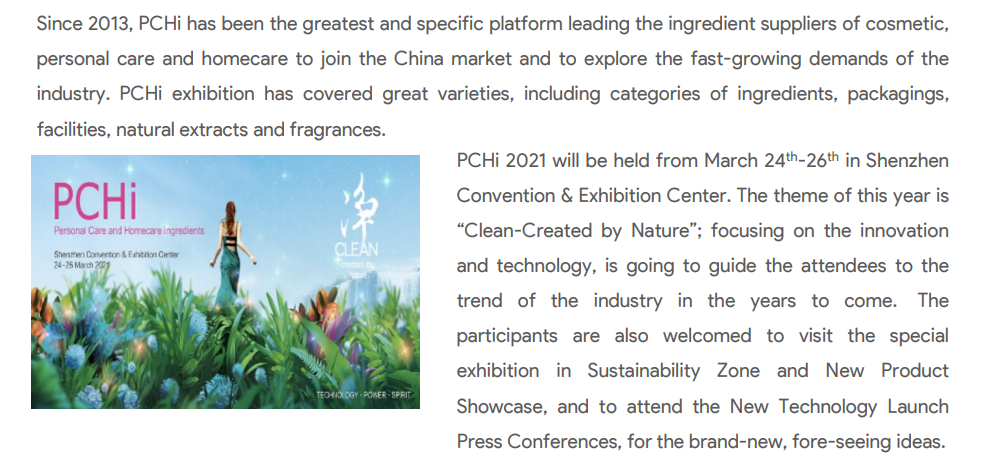 Strong-growing demands on Clean Beauty
As the beauty business recovering in a progressive speed in this post-epidemic era, it brings up the eco consciousness of consumers. More and more consumers are paying attention to the sustainable, eco, natural developments.

2021 Personal Care and Homecare Ingredients Shenzhen
---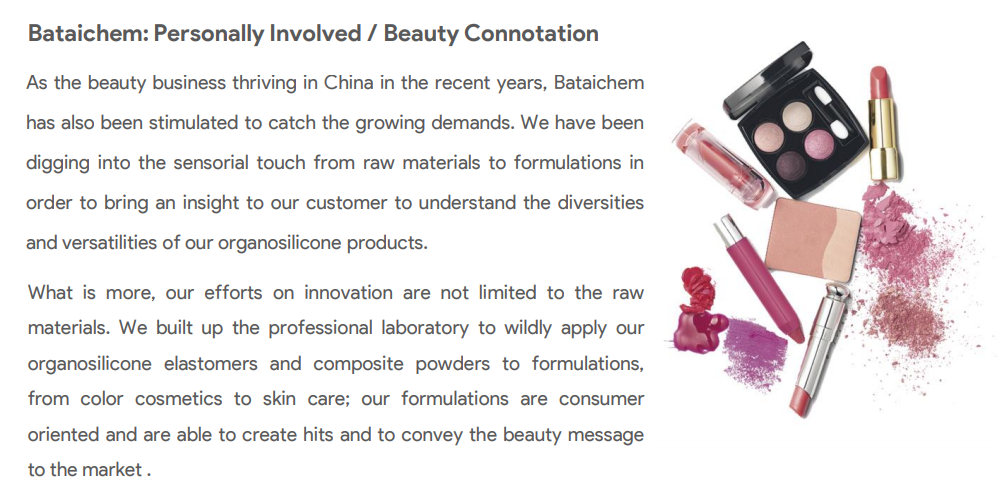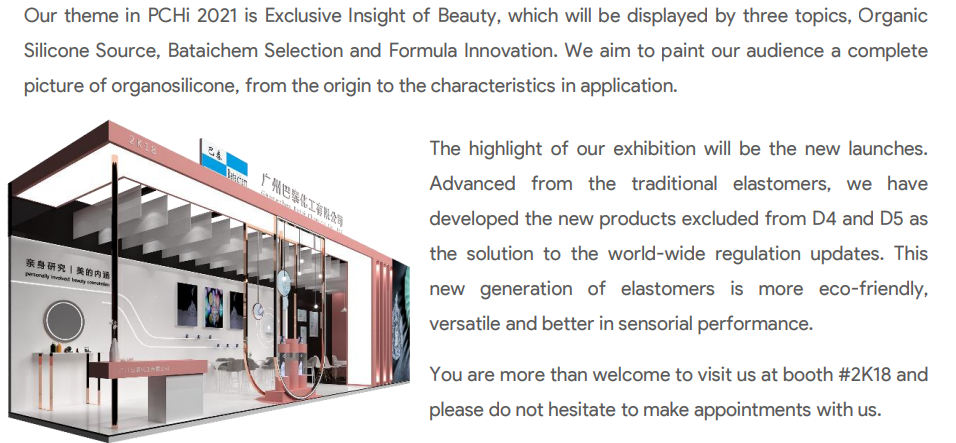 Silicone Solutions for Beauty and Personal Care
---

In the past three years, the Organosilicone Composite Powder (INCI: Vinyl dimethicone/ methicone silsesquioxane crosspolymer) is applied in many new launched products, especially in lip color, foundation, and facial primer.
Organosilicone Composite Powder is very stable when added to all kinds of formulation and can bring the formula with the great velvety texture and the long-lasting tenderness. By controlling the particle size and the organic group, we develop a series of products like BT-9123, BT-9102 and BT-9105, which are different in oil-absorption, tenderness, velvety and long-lasting.

In the past three years, the Organosilicone Elastomer Gel (INCI: Dimethicone/ Dimethicone Crosspolymer) has been applied to many color cosmetic products and skin care solutions (for face/ neck especially) to upgrade the sensorial texture.
Organosilicone Elastomer Gel is also a stable option to be added to formulations. Bataichem has the solutions to all kinds of your demand, including the spherical structure types, cyclic siloxanes types, carbon chain modified types, etc. The differences among the structure, main organic group, solvent contribute to the variety of performance. Our best selling products, BT-9085, BT-9070 and BT-9162 are popular due to the breakthrough performance in formulations.